Written by Otaku Apologist
Cunt Wars, developed and published by Hooligapps. A free to play turn-based PVP strategy game. Available on Nutaku since June, 2018. Uncensored genitals, available for PC internet browsers and Android.
A free turn-based PVP hentai strategy game that's rocking the western hentai scene. Unlike 90% of free to play games on Nutaku, Cunt Wars doesn't have a stamina system. You can play this title from morning to night, as many hours as you want. The game's focus is player-versus-player combat. The title is very similar but also dissimilar to card battle games like Hearthstone.
Note, this game is called "Chick Wars" on the Nutaku game selection. In game it's called different.
STORY
You are a nobody from a broken family that dreams of riches and power. You're so messed up from a life of poverty, you're ready to kill, rape, and torture your way to become emperor of the world. In the game of free to play hentai games, you win, or you die. The time for peace was behind us, now is the time for war.
GAMEPLAY
Each turn, you summon one unit. You choose minions to summon from four random cards in your deck. After playing a card, you draw a new one. Similar to Magic the Gathering, your units attack the enemy summoner, unless there are monsters blocking their attack path. Every unit from one side attacks before you pass the turn. The summoner whose face gets smashed to zero health points first, loses.
The game board has random objects that help you gain an advantage. There's rocks that block damage, totems that buff units. There's squares that buff damage and health of units that stand on them. There's all kinds of power-ups. Some of the most "imbalanced" objects are the simple rocks. If the player who gets the first turn tucks a high health ranged unit behind a rock, you need some major luck to win.
I accessed PVP league rank 20 in two days, which pit me against players with 20%+ more health than my guy. I've been grinding this rank ever since, up and down, managing to win about 1/3 games with good play and lucking out on the board. It really stirs your competitive spirit to get your ass handed to you, to then power up your minions, and smash through the previously inaccessible ranks.
Many matches are decided by baiting out the enemy's cooldowns. If you're the first to blow your summoner's "STORM", which deals four damage to all enemy units, you're probably gonna lose, because the second spell is "Summon Two 6/1 Archers". The first cooldown counters the second, so the player who blows his load first, will be eating arrows the rest of the game. But, the game has so much randomness, the tide can turn anytime.
Winning battles grants you loot chests full of cards, gold, and other goodies. The chests respawn every few hours. When you gain duplicate cards, you can spend in-game gold to upgrade a minion's stats. The higher levels of power require increasing numbers of duplicate cards. Yes, the game expects you to be so addicted at that point, that you'll happily spend real-world currencies to shorten the grind to cross the next threshold of power.
Cunt Wars is somewhat pay-to-win. However, it's so much fun, you don't mind losing a few games while grinding out the humble beginnings. And, the daily deals offer such crazy value, you won't mind throwing a fiver to snatch a 90% discounted booster pack. 20K gold, and tons of cards for just a fiver? I like it.
The card types are Order, Nature, and Chaos. Order is a human faction of paladins, priests, and soldiers. Chaos minions include succubi, cultists, dark knights, and similar evils. Nature minions are toads, wood spirits, etc.
Many cards and strategies are valid, thanks to the game throwing random in-game events that buff cards.
When a card type is buffed, suddenly you'll see some of your minions with twice the health, or damage. Other players receive the same bonuses, which mixes up the metagame. You can also use gold dust gained from adventures to temporarily buff individual units.
GRAPHICS
The game's art direction is lovely, with beautifully drawn hentai imagery to unlock, and super cute sprites for battles. The main menu is a tapestry of dark, gothic floating islands. There's dark towers, gold mines, an epic skull cave, all floating on islands. The dark themes of the game is balanced by the brightly colored, super cute anime art. The minions are animated with the full range of modes: Idle, attack, victory dances and death falls.
The game boards look gorgeous, and they have plenty of variety. I've seen everything from pyramid halls to grim swamps, and icy lands. The variety of visuals keeps the experience engaging.
BUSINESS MODEL
Cunt Wars is free to play. You can buy things in the in-game store with the green-colored gems. Items you can buy include instant resets to the cooldowns of the loot chests. You can buy gold dust, that boosts the powers of singular units. You gain gems at a slow, steady pace from normal play, which slowly conditions you to getting used to the premium features. Living without premium will be oh, so painful after you experienced the love.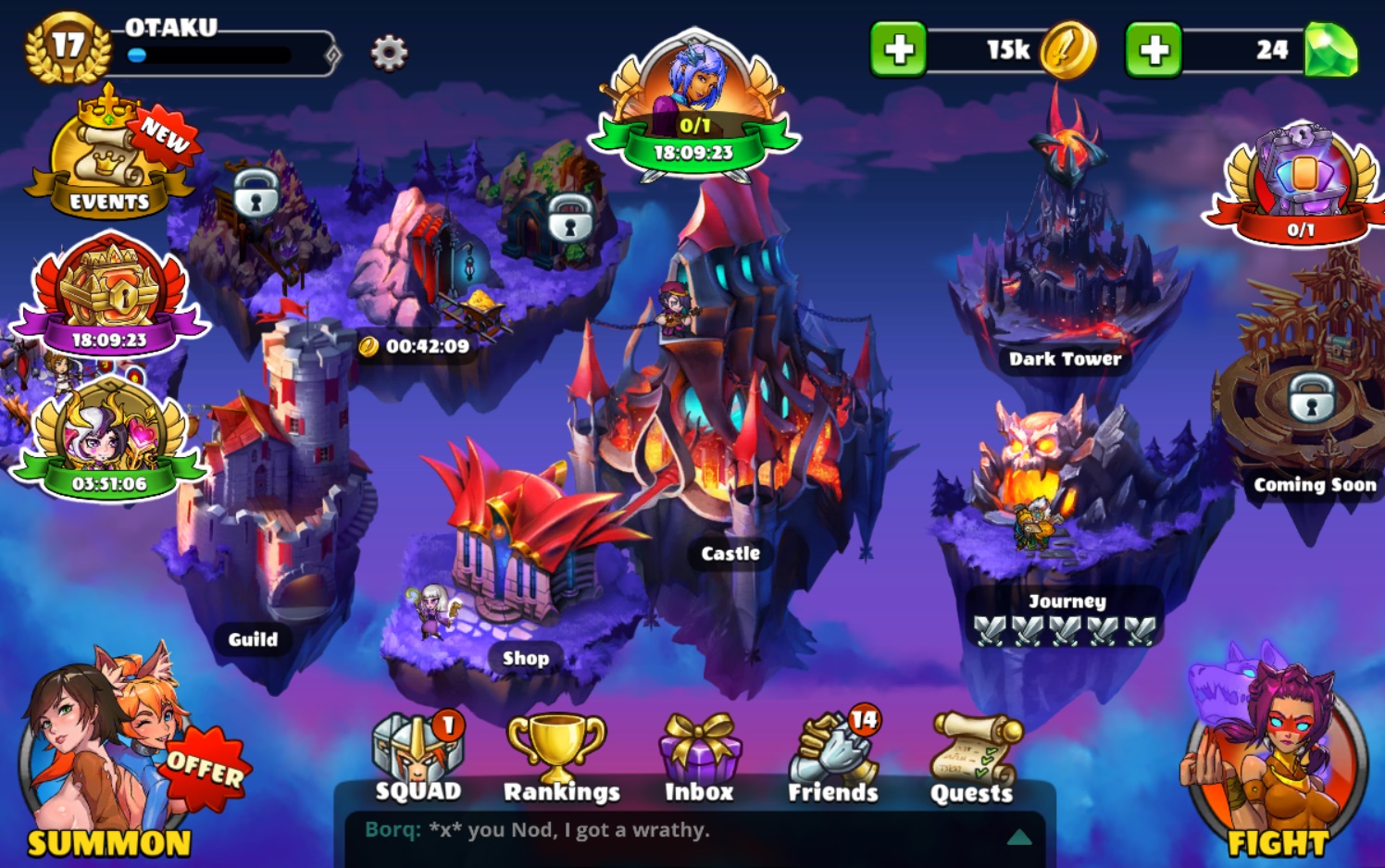 MUSIC
The Cunt Wars original soundtrack rocks several tracks and jingles, that spice up the experience. I found myself enjoying all the songs. They've very fantastical, with a different, refreshing vibe to each of them. Just for battles, there are multiple fluent tracks to enjoy. The menu music is more medieval in style, but still modern.
VOICE ACTING AND SOUND EFFECTS (SFX)
The game has partial voice-acting. The male main character has a couple voiced emotes, while the minions will giggle, roar, and generally make noise. The voices are as cartoony as the character art, meshing perfectly with the overall cheerful aesthetic. The acting is fine, and the sound quality up to snuff.
HENTAI
Cunt Wars has decent hentai, but not really any hentai scenes. I don't mind, because I'm always playing mediocre pornographic visual novels with generic erotic writing. The card images get increasingly more enticing, with the women removing their clothing piece by piece, and spreading their legs. The art in the PVP menu also, gets wilder, and wilder. It's a nice reward to see your character's dick serviced by his horde of needy minions. The women have plentiful breasts and asses that don't get tiring to look at. Any time you get aggravated from losing too many PVP matches, drop your panties and stroke your genitals to climax.
CONCLUDING WORDS
Cunt Wars is the best hentai game I've played in ages. Once you're done with the pandering tutorial, and hit the PVP ladder, you'll be hooked instantaneously. If you liked Magic The Gathering, this is a much more fast-paced version of the same awesome concept. Give this game a chance, and it will blow you away.
If you already got a Nutaku account, go play! If not, slap the banner, or this link.